Aloha and welcome to Susanella's Music Studio
Flute ~ Piano ~ Music Theory/Composition Lessons
Harmony Farm, Mountain View, Hawaii

The richness of tone Susanella Noble lures from her flutes
may be unequalled in the world -- Mogollon Advisor
I believe that musicians are merely born with an aptitude and must work throughout their lives to attain their potential. I have been blessed with the ability to lift the notes from the page and touch the soul of composers. I have also been given the gift of composing. I share all my secrets with my students with the hope that they will be better than me.

Every lesson includes:
tone production and intonation

technique studies

repertoire interpretation

ensemble playing

ear training

performance practices
Susanella earned her Bachelor of Music Education and Master of Arts Degrees from The University of Denver on full scholarship where she studied with Paul Hockstad. She then studied in France with Jean Pierre Rampal, Maxence Larrieu, Alain Marion and Andras Adjoran. Returning to Colorado, Susanella taught at Metropolitan State College and performed throughout the country for Community Concerts with classical guitarist, Charles Wolzien. She began composing music and teamed up with pianist, Deborah Schmit-Lobis, to form Cordillera, a neo-classical ensemble. They produced two albums, Open Space and Along The Coyote Highway, for the Holly Creek Collection label and performed throughout the west including The Pikes Peak Jazz Festival, Jazz In The Sangres, The Arvada Center, Cherry Creek Arts Festival, The Boulder Creek Festival and Larimer Square.
Susanella moved to Harmony Farm on the Big Island of Hawaii in 2002 where she teaches flute, piano and composition. She is principal flute of the Kona Symphony, the Kamuela Philharmonic, the Volcano Chamber Players and the Hawaii County Band. She gives workshops in the schools about the history of the fife and substitutes primarily for the bands and music programs.
She has publications with Southern Music, Shawnee Press and Santa Barbara Press.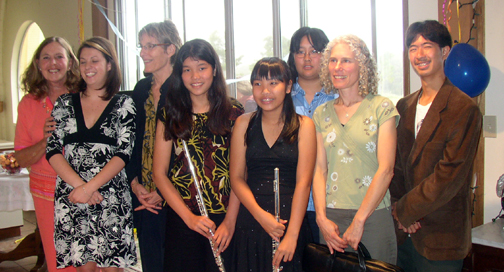 Student Recital, May 13, '07

Student Success Stories
Elise Carter, Uptown Flutes Ensemble. Carnegie Recital Hall debut 2005 "It seemed that the Franck (Sonata a minor) had been in Ms. Carter's veins since she began playing the flute." -- New York Times
Gretchen Moritz: National finalist in Seventeen Magazine General Motors Flute Competition
Students have won scholarships and graduated from: Universities of Colorado, University of Denver, Stanford, University of Wisconsin, Berkelee School Of Jazz, University of California Berkeley, North Carolina School of the Arts, UCLA, Duquennes, Harvard, USC, Rice, etc.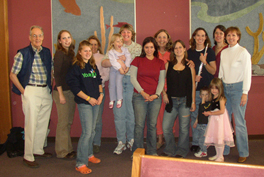 A mini flute ensemble fest that I had with some of my former students in Boulder, CO in 2005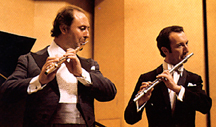 Two of my favorite teachers, Jean Pierre Rampal and Maxence Larrieu
Cordillera Ensemble -- "The best of the eclectic Boulder music scene"
Flute Repertoire for Susanella's Studio
The Wisdom Of My Teachers
Performance Tips
Keep in touch! I love hearing from all my former students!


061607