Cordillera
A creative new classical ensemble performing original music
Deborah Schmit-Lois, keyboards ~ Susanella Noble, flutes ~ Kathleen Fagre, hammered dulcimer
CORDILLERA is composed of talented, eclectic musicians who blend the flute, piano and hammered dulcimer and take their classical roots and stir them up into a new, original concoction. Their exquisite melodies enhanced by the rythmic dance of the hammered dulcimer will leave your body and soul refreshed and renewed. These successful musicians have individually played Carnegie Hall, the White House, with Andrea Bocelli, Claude Bolling and Pavarotti and performed across the USA as well as from Norway to Kenya.
Is it folk, jazz, classical or a new genre? Come listen and define it for yourselves!
Hear Cordillera's albums on Amazon.com
Cordillera's 2007 Reunion Concerts were
a smashing success!
Highlands Garden Cafe on July 22
featured Margaret Noble on cello
and a delicious Hawaiian dinner prepared by Chef Patricia Perry
Then off to Hawaii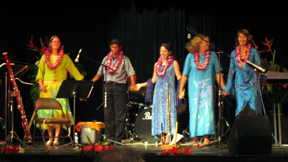 Saturday, August 18 Kilauea Military Camp Theater
with special guests, Sharon Cannon, percussion
and Lisa Lilja, bassoon
Lutheran Church of the Holy Trinity
Kailua Kona Concert August 19
The fact that all of the music was original makes it all the more valuable. The sense of ensemble that prevailed was enlightening, bringing the melodious sounds of the flute, the soothing atmospheric tones of the dulcimer, the lively percussive sound of the piano, the expressive almost voice-like antics of the bassoon, and the driving rhythms of the drums and rhythm instruments together in wasy that complimented each other magnificently. --The Big Island Weekly
Sensational - Absolutely Terrific - A Complete Hit!
-- Betty Bartlett Jazz In The Sangres Festival Director
It was a joy to hear you play!
-- Isaac Stern
The best of the eclectic Boulder music scene.
-- Nexus Magazine
One of the regionís ablest and most original ensembles.
-- Boulder Daily Camera
A blend of new age, folk and salon music, all richly melodic,
winningly arranged and adeptly performed.
-- The Denver Post
Deborah Schmit-Lobis, a pianist whom Ashkenazy called "gifted", graduated from the University of Colorado with a double major in piano performance and pedagogy. She has toured with Edison Lighthouse, Beatlemania and tenor Andrea Bocelli and performed with Luciano Pavarotti. She has performed with the Colorado Symphony Orchestra and Central City Opera Outreach Program, the Colorado Ballet Orchestra and has toured with the Colorado Childrenís Chorale, which included a performance at the White House.She is a composer, arranger and a Sound Healer.
Susanella Noble studied flute in France with Jean-Pierre Rampal and Maxence Larrieu following the completion of her B.M.E. and M.A. degrees from the University of Denver. The New York Times called her Carnegie Recital Hall debut performance "Sparkling and entertaining". She has toured for Community Concerts Inc. and given performances and masterclasses across the country. Since 1990 she has been composing melodies which James Galway said "should have been written hundreds of years ago". She lives on the Big Island of Hawaii where she is principal flute with the Kamuela Philharmonic, the Hawaii County Band and the Kona Music Society and has an active teaching studio at Harmony Farm. She became a Certified Natural Balance Barefoot Trimmer in March '08 and is a hoof care practitioner on the Big Island.
Kathleen Fagre is a pianist, recording artist, composer and songwriter. She found a natural transition to hammered dulcimer in 1996. Just one year later she won the Highlands Scottish Festival Dulcimer Competition and reclaimed the title in 1998 as well. As the founder of KP Ministries, Inc., Kathleen has composed an eclectic variety of Christian music which she has performed nationally and internationally. A graduate of Indiana University, she has performed with The Colorado Symphony and for the Ibsen Festival in Oslo, Norway. She has released four recordings of her own music.
Their premiere album, Open Space

"Your parents already like this!" -- Westword
Along The Coyote Highway

email
120310