My Own Story
by
Champion Chuba's Buckaroo
Tibetan Terrier AKC #NM739896/01
In Tibet my kind are called Su-Khyi, or "the little people". We have been the soul mates of the holy lamas for thousands of generations and His Holiness has one of my cousins. We are still called the "good luck dogs" because we bring good fortune to our people. Traditionally, we could never be sold, only given in love.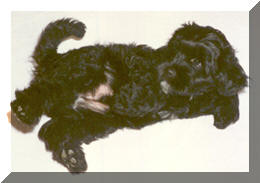 My family found me when I was just eight weeks old at the home of Pat Linehan, a renowned Tibetan Terrier breeder living on the front range of the Rocky Mountains. The moment I met Tedd I knew I had found the love of my life. When Mamaperson fainted at my sticker price, Tedd began to cry and I licked away his tears to tell him it would be okay. Sure enough, Pat nearly GAVE me away to them and they carried me home to pee on their antique carpet, chew up their valuables and sleep on their pillows at night to guard their dreams.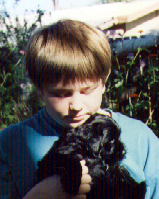 When I got bigger Mamaperson took me to the barn where I loved to run next to her and her horse. I got so fast that I could keep up with them and even fly over some of the jumps. A couple of times I almost met some coyotes -- I really wanted to say "hi" but Mama got scared and chased them away. I got a lot of baths in those days because I loved to roll in the horse manure.
My people took me everywhere they went from Georgia to California so that I would get a feel for my adopted country. I've flown in airplanes in my crate but I really love riding shotgun in the car. I can remember every place I've ever been just by the smell.
I became a show dog for a few, glorious months until I completed my championship points and then I got my first of many haircuts. My favorite show was the Tibetan Terrier National Specialty in Denver where I met all my cousins. I took quite a shine to the lady judge from Holland, Thea Koster, as she did to me. Mama nearly fainted when I came in second in the sweepstakes! Once I learned that the judges weren't going to take me away from Mama, I started to win big time and finished my championship with three majors in a row.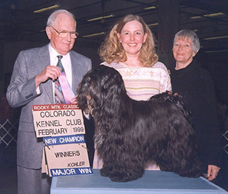 If you want to have one of my kind you have to be ready for a dogchild who is super smart, seriously stubborn and 150% loyal. My breeder, Pat Linehan is pictured on the right. You can contact her at 1-307-637-5651.
One day someone threw some poisoned hamburger in our yard and I ate it. . . I'll eat just about ANYthing but never, ever again will I eat raw hamburger. I was so sick I thought I was going to die -- so did all the veterinarians at Colorado State University and they gave up on me. They said I had suffered "a serious insult to my liver" and there was no hope. Just when the angels were fluttering down for me, my Aunt Marty gave Mama her copy of the book, The Nature Of Animal Healing by Dr. Martin Goldstein. My very own vet, Dr. Millissa Culver, followed the instructions in the book and, miracle of miracles, I started to feel better.
All my life I had told Mama that I HATED to eat that nasty Purina ProPlan dog food but she stuffed it down my throat -- Yuck! After I came back from Death's Door, Mama realized that the ProPlan seemed to keep poisoning me = duh! She finally had an epiphany and opened Goldstein's book to Chapter 1, It All Begins With Food. When she set that first bowl down filled with hamburger, rice and carrots, I thought that I had indeed died and gone to heaven! My joy knew no bounds! I was part of her pack at last! I started paying much more attention to everything she does and says.
Even when we travel, my Mamaperson fixes my food in advance to take along or everyone shares their meals with me. I have never had to eat that commercial dog food again!
In 2002 we moved to Hawaii where I instantly embraced the local culture, cuisine and learned to hula. The Hawaiian people eat a LOT of "dog food" such as rice and hamburger. We have a huge yard and I have my very own horse who loves to race me along the fence line.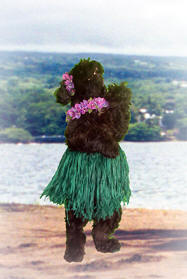 Here I am dancing for joy!
I thrive on Mama's cooking and her culinary talent contributes to my joi de vivre . One day I told Mama that she should teach the whole world to homefeed their dogs. She said that in Tibet, most people have never heard of kibble and have always given their "little people" real food but it would be hard to convince American pet owners to switch becaue they had been brainwashed.
I became Mamaperson's inspiration and helped her create The Pet Chef Show that I hope can help people change the way they think and therefore change the way they feed their pets. We prove that homefed dogs and cats are actually healthier, live longer and don't suffer from skin allergies, digestive disorders, cancers and ailments caused by daily digesting toxic waste. We demonstrate the way to build a strong immune system through nutrition and, since doggies should eat exactly the same foods as humans, we prove that every pet owner can become a successful pet chef. My ancient ancestors ate from their owners plates for thousands and thousands of years while we were evolving into the "little people" you know today.
Please help your own petchildren by reading How To Start Homefeeding Pets and cooking up her Recipes to share with your human and animal families. She's been working diligently and selflessly on this crusade for years because she wants to help all my doggie and kitty friends.
Mama makes heavenly music in our home every day. My favorite song goes, "Bless the beasts and the children, for in this world they have no voice, they have no choice." --Barry De Voreon and Perry Botkin, Jr.
Aloha,
Buckaroo
P.S. I answer all my email


101710
© 2008 Susanella Noble