Ashante Gaucho Marx
a.k.a. Gaucho Mio
Tibetan Terrier AKC #NM840920/01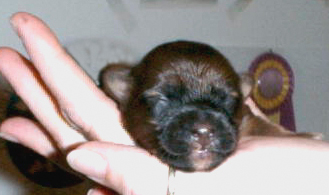 My Mamaperson came to see me when I was just a few hours old. She kissed me and promised to love me forever. Because I was the only baby in the litter, the snack bar was open 24/7 and I got so fat that I couldn't use my legs.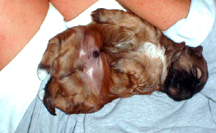 Here I am in Mamaperson's lap
She took me home with her when I was three weeks old and held me next to her heart every moment until I grew up and could romp and play. I have been homefed my whole life!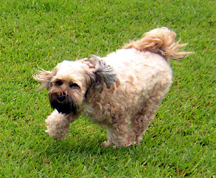 I love all my babies and keep them in bed with me. If I like someone who comes to visit, I will take them one of my babies.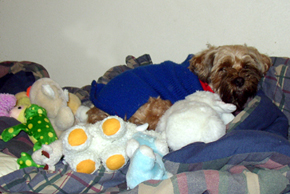 Mamaperson knit me this sweater because I get cold.
I never had to eat that nasty food from a bag because my Mama had learned to homefeed by the time I came to live with her. My teeth are shiny white and my coat is silky.
I can do all sorts of tricks and I love to wear funny costumes. I'm not a show dog like Buckaroo but I am a TV star at heart.


101710
© 2008 Susanella Noble