Meet The Homefed Poster Pups!
Sal gets a mouthful of Oscarella!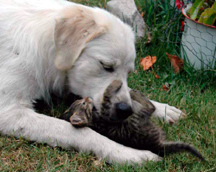 This is Christie, an AKC champion standard poodle,
who has been homefed her whole life.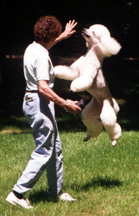 Je suis La Reine du monde. Je prefer poulet, riz et haricot verts. Partez maintenant, j'ai ennui.
Christie's mom says she boils chicken thighs until tender and removes the bones; saves the broth to cook the rice; when the rice is done, add the chicken back in and put in some green beans; simmer 5 minutes; cool before serving.

The Magnificent Manapua Tibetan Terriers from Oahu!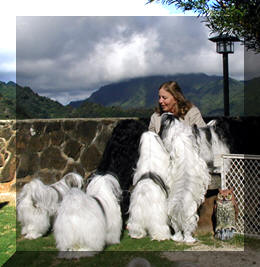 The Pet Chef came to visit us! We love her! She kissed our sweet noses and fed us homemade cookies. We are show dogs so we are very spoiled and have never eaten commercial dog food.

Mahina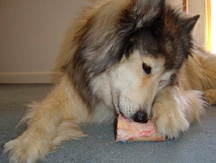 I spent the first two years of my life being starved, mis-treated and only fed commercial dog food. But I was rescued by my beloved Kumu who knew exactly what dogs SHOULD eat! I have filled out and found boundless energy eating raw meats and vegetables. Thank you Kumu, I love you!

Bentley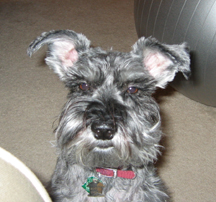 I'm a happy boy! My mama started me on real food and my hair stopped falling out! I had been to the vet who wanted to put me on steriods but homefeeding fixed the problem. Thank you Pet Chef!
Note from Bentley's Mom: You were right about the Dynapro supplement. I just squirt it all over his food and his poops are Tootsie-Roll perfect!

Trick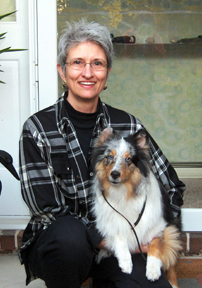 When I first got Trick he had been fed commercial dog food and he had that "doggie odor". The minute I started feeding him real food, he got smarter, more attentive, more willing and much prettier! He smells like a newborn baby!

Toby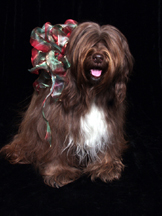 Linda's beloved companion, Toby, flew over the rainbow on December 4, '07. He had been diagnosed with a heart condition several years ago and the vet recommended a natural diet. Toby lived a happy life on borrowed time. He was well-loved by the entire Rocky Mountain Tibetan Terrier club. A great light has left this world.

Send me your success stories about homefeeding along with a photo!

101710
© 2008 Susanella Noble