"Favorite Family Recipes"
as featured on Susanella The Pet Chef
watch on www.youtube.com
It's so easy and natural to cook for your pets while you're cooking for your family. Only a couple of generations ago people homefed their pets because they never dreamed of dog and cat food in a can, let alone a bag. They continued a tradition passed down for tens-of-thousands of generations of pet owners by giving them REAL food, mostly table scraps. Our earliest ancestors brought dogs out of their caves with them to form new civilizations and the favored companion dogs literally ate from their masters' plates. Those ancestral canines rarely suffered from the liver, kidney, bladder cancers, all those digestive tract abnormalities plus the skin problems and allergies and diabetes and all the problems that afflict today's dogs and cats - problems that have been proven to be caused by the toxins we feed them from the bags and cans.
Just start to feed your dogs whatever you're eating with the exceptions of chocolate, grapes & onions. Choose your menus so that all the leftovers are dog food. Think healthy and make wise choices and your dogs will blossom - they'll feel more muscular, act happier, have more energy and respond more intuitively to you. I guarantee it!
First Please Read How To START Homefeeding Your Pets
Healing Maintenance Meal (using indigenous foods of Tibet for Tibetan Terriers for Bucky and Gaucho)
(recipe may be cut in half, doubled +)
1 pound ground beef
1 cup cooked barley
1 cup mashed yams
1 tablespoon butter
2 tablespoons of chopped fresh parsley
Cook barley in a rice cooker or on the stove -- 1 cup dry barley + 3 cups water. Slowly cook the ground beef in a large pan with the garlic. Peel, quarter and boil yams for 10 - 15 minutes or until soft; mash with 1 tablespoon of butter.
For humans, arrange beef on bed of rice with yams on the side; add sprig of parsley and eat it.
For dogs, mix together and serve ½ cup for every 10 pounds of dog's body weight (more if underweight, less if overweight)
Eier Küchen or Egg Cake (directions are for two servings and can be doubled +)
2 slices of bread, cubed
2 tablespoons butter
2 large eggs
Melt butter in a pan with the bread; toss as it toasts in the pan
Whip the eggs and pour over the toast in the pan, stirring to distribute.
When nearly cooked, remove pan from heat and cover. Let set one minute.
Cool to room temperature before serving to dogs. If this is the dog's main meal of the day, add puréed raw or steamed vegetables to the meal and serve ½ cup for every 10 pounds of dog's body weight.
Serve hot to humans with salt & pepper to taste.
This makes a quick meal for a dog when you only have time to fix breakfast for yourself.
Chicken Scaloppini with Artichoke Hearts on Spinach Fettuccine
serves 4
4 boneless chicken breasts
3 tablespoons butter
3/4 cup lemon juice
1/4 cup dry vermouth
1/2 teaspoon marjoram
1 bay leaf
1 can artichoke hearts packed in water
1 thinly sliced lemon
1 package spinach fettuccine
1/2 cup flour
1 pinch salt
fresh ground pepper
1 small jar pimientos
1/2 cup sour cream
Start heating a large pot of water on the stove for the pasta with just a grain of salt. Put flour, marjoram, a dash of salt and several grinds of fresh black pepper into a flat dish or bowl. Flatten the chicken breasts between waxed paper with a mallet or tenderizer and dust with the flour and seasonings. Heat 2 tablespoons of butter on medium high in a large skillet that has a lid. Add chicken and brown on both sides. When sizzling, pour a dash of dry vermouth in the pan. Add the lemon juice and bay leaf to the pan and bring to a boil; reduce heat, cover and let simmer for 20 minutes. Add artichoke hearts, pimientos and sour cream and simmer for five minutes. Cook fettucini until slightly tender; drain and add 1 tablespoon of butter. Arrange fettucini on a platter with chicken and the sauce from the pan; add thin slices of lemon for garnish. (you can extract dog's portion from the pan before adding pimientos and sour cream; serve with fettucini. Or, give dog the leftovers.)
Blue Cheese Dressing on Fresh Garden Salad
1 pound gorgonzola or blue cheese
1 cup sour cream
1/2 cup mayonnaise (optional)
1/4 cup lemon juice
1/2 cup milk
fresh ground pepper
In a food processor purée 1/2 pound of the cheese with the mayonnaise and sour cream; pour in milk and lemon juice and blend until smooth. Grind in the fresh pepper to taste and add the remaining cheese; purée for just a second so the remaining blue cheese is in small chunks. Serve with a fresh garden salad or on broiled steak.
For dogs, collect lettuce leaves or greens that you might have discarded, purée and serve on their dinner. They really don't need the dressing but would go wild for a lick.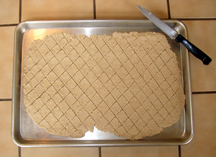 Puppy Pan Cookies (pre-heat oven to 350°)
1 cup meat drippings (fat and juice)
1 egg
2 cups oatmeal
1 cup flour + ½ cup for kneading
Purée the meat juice with garlic and oatmeal in a food processor. Add the egg and flour; spin until it rolls up in a ball. Put dough on a floured surface and lightly knead in more flour until it isn't as sticky. Roll out on a baking sheet with rolling pin or wine bottle and score into bite-sized bits. Bake at 350° for 40 to 50 minutes or until golden brown and crispy.
Store in air-tight container (we have no idea how long these cookies will keep on the shelf as they get eaten quickly)

101710
© 2010 Susanella Noble