The CAST OF CHARACTERS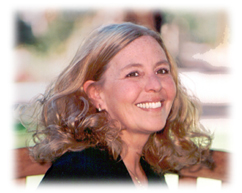 Susanella Noble made her singing debut in public at the age of three but soon found her true 'voice' on the flute. She won music scholarships to the University of Denver where she earned her B.M.E. and M.A. degrees and then studied flute in France with Jean-Pierre Rampal and Maxence Larrieu. The New York Times called her Carnegie Recital Hall debut "Sparkling and entertaining" and she toured the country to critical acclaim, "Outstanding...magnificent" -- The Arizona Republic. Her greatest gift has been composing music, some of which James Galway said "should have been written hundreds of years ago". With her improvisatory ensemble, Cordillera, Susanella has recorded two albums, Open Space and Along The Coyote Highway which are heard on the pilot of THE PET CHEF.
Susanella lives at Harmony Farm on the Big Island of Hawaii where THE PET CHEF is filmed. She is principal flute of the Kona Symphony, the Kamuela Phiharmonic, the Hawaii County Band and the Volcano Chamber Players. She teaches flute, piano and composition and is a guest conductor in the schools.
Whoa -- where are those culinary credentials?????
Inventing new recipes and throwing together exotic meals for guests has been one of her lifelong passions. She became a pet chef by necessity several years ago when someone did the unthinkable - they poisoned the Buckaroo! It was a miracle that he survived and shortly thereafter, she realized that Buckaroo's system couldn't tolerate commercial dog food = she was forced to start feeding him REAL food. As soon as Susanella recognized that she was virtually cooking the same meals for her two-legged family as she was for her four-legged, THE PET CHEF was born!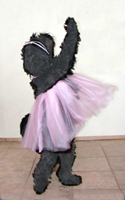 AKC Champion Chuba's Buckaroo
Bucky's first dog show was the Tibetan Terrier Club of America National Specialty where he won second in the puppy sweepstakes. He finished his championship with three major wins in a row and immediately celebrated with his first hair cut. He is a dancer, a bon vivant, loves socks and has never met a stranger! Buckaroo has his very own page!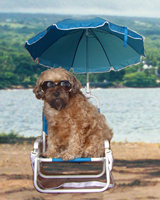 Ashante's Gaucho Marx
Gaucho is the BEST boy! Susanella took him home at the tender age of three weeks and tucked him into her bed and her heart. He knows how to party, is fiercely loyal and loves poetry. He is the pinup boy for the month of July in the Tibetan Terrier 2006 calendar. Gaucho's own homepage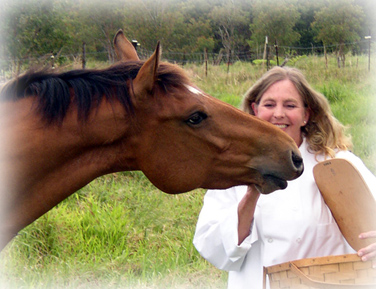 Lio = 'horse' in Hawaiian
Lio was born on a cattle ranch overlooking the southern tip of the Big Island. Destined for a hard life as a working horse, Lio saw his road to salvation when Susanella appeared to look over the herd of horses. He kissed her, danced for her and came home to Harmony Farm where he lives like a prince.
Thanks to Gene Ovnicek and the Equine Digital Support System, Lio is still with us today to prove that miracles can really happen!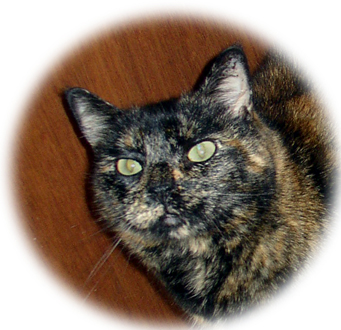 Mrs. McGillykitty
Gilly is a homely girl who loves bright lights and cameras. She was diagnosed with lick granuloma almost four years ago because her mama fed her the most expensive, dry, "organic", "natural" cat food and she was wrong. Gilly is still with us because she's now eating raw meat every day.

Highlights of the show include

Five Unique, delicious recipes for both two and four-legged appetites

What NOT to feed dogs

Pet training and grooming tips

Ecological tips about gardening and recycling

101710